In general, we can say that today the background colors of persian mosque carpets that are woven in a common way include the following 6 colors:
1- green color
2- blue color
3- Red color
4- Crimson color
5- Brown color
6- Cream
As you know, there is always a color limit in the weaving of machine-woven carpets; Today, automatic carpet weaving machines usually have 8 or 10 colors, which can not be changed, and each weaving company has its own 8 or 10 colors, and if you pay attention to your carpet, you will not see more than this number of colors.
In the following, you can see a sample photo of each persian mosque carpet colors, but before seeing the photos, we invite you to watch the following video from our factory to see some of the popular prayer carpet rolls:
(1) Green color of persian mosque carpet
It can be said that the green color of the persian mosque carpet is one of the best-selling colors and is one of the colors of the prayer carpet that is used inseparably in the background or at the edge of the carpet. As you know and have seen in the color of religious fabrics and flags, green is a popular Islamic color.
But you should note that the green color that is used as the background color for various designs of masjid carpets is usually jade green or Saudi green color. Light green colors such as olive green are not suitable for the color of the masjid carpet. In the following, you can see the woven example of green persian mosque carpet woven by Sobhan Company:
(2) Blue color of prayer carpet roll
After green color, blue color is very popular and pleasant in the weaving of all kinds of mihrab carpets and ceremonial carpets for mosques and prayer halls. As you can see in the tiles on the walls of mosques, the color blue is very common and can be found in abundance in the color of the doors and walls of mosques.
Like green, not every blue color is used in the weaving of persian mosque carpet. The most widely used colors of blue prayer carpet roll include turquoise blue and carbon blue carpets, but carbon blue is less used today. We invite you to see 1 example of blue masjid carpets: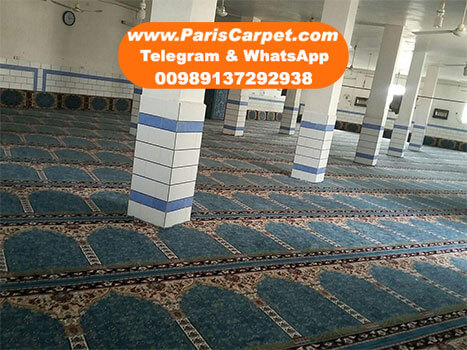 (3) Red color of persian carpet
Perhaps it can be said that red is more suitable for Husseiniyahs than mosques; Because in choosing persian carpets for mosques, soothing colors such as blue and green are more welcomed. Many red colors are used in the weaving of machine-woven carpets, the most important of which are lacquer red, Ronasi red and crimson red.
In the weaving of persian mosque carpet, dark red colors such as crimson red and Ronasi are mostly used, which you can see in the woven and executive sample below:
The color black or navy blue is rarely used in mosques and prayer halls, and the reason may be to darken the environment and space of mosques. However, in some cases, the board of trustees of mosques prefer to choose this color because it shows less dirt.
We suggest that you do not choose a black color as much as possible due to the darkening of the mosque, and use colors close to this color, such as jade green or carbon blue. The black color in machine-woven carpets is more suitable for home carpets than mosques and prayer halls.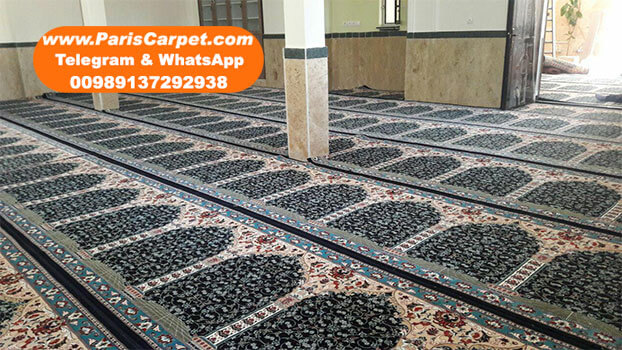 (5) Brown persian mosque carpet
In the past, brown color was widely used in the weaving of persian mosque carpets, but today it is less used in the weaving of machine-woven carpets especially acrylic carpets.
Among the famous brown colors in machine-woven carpets, we can name walnut, chocolate and Nescafe colors, which are mostly used in masjid carpet rolls. You can see an example of a brown carpet rug below:
(6) Carpet of cream color
We have to tell you that the cream color is not used at all in the background color (the main color) of the persian mosque carpet due to its lightness and showing dirt, but the cream color is very common for ordinary home carpets (12 meters and 9 meters).
However, since the cream color is not suitable for mosques and prayer halls, the same color is used in some cases, such as almond color. Almond color, which is slightly darker than cream, can be used as an alternative.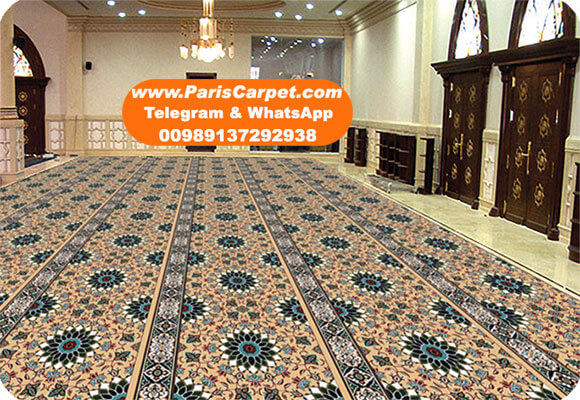 ?What color of mosque carpet should we choose
As we said before, the best-selling and most popular colors of mosque carpets are jade green and turquoise blue, but the appropriate color of carpets for mosques, prayer halls or other holy places depends more on the tastes of people or even the culture and customs of the people of that area.
Our suggestion is to choose the color of persian mosque carpet based on the color of the interior decoration of your mosque or prayer hall (especially the color of the walls) so that a uniform view is created in the mosque and apart from the spiritual space of the holy place, it also brings a spectacular space for worshipers.
The effect of color on the price
The colors of persian mosque carpets usually do not affect the finale price. In general, we must say that 2 items of yarn and the number reeds affect the final price. To see the price list and factors affecting the price, refer to the following: